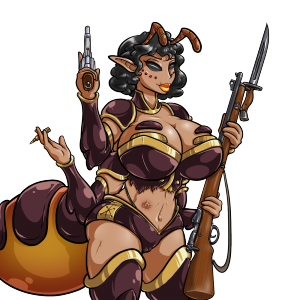 0.6.43 Changelog:
Ellie now sells ClearYu and Rubber-Made, two items penned by Adjatha with some rather unique bad-ends attached to them.
Ellie can now sell Suma Cream, an enhancer of the testicular persuasion. Again, written by Adjatha, and coded by Jacques00.
Carrie has a new scene for treated bull types, coded by Jacques00 and penned by Nonesuch.
Three new one-off scenes requested by Offbeatr prompts have been added to the game: one for Millie's milker getting out of control (request a solo milking), one for sleeping with the taxi vendor on Tarkus, and one for tentacular impregnation (find a strange egg, then fly your ship around with it in your inventory).
Nerfed orifice capacities somewhat. They were slightly too high.
Fixed some scenes missing tagging for fluid input.
Fixed the carry training expansion over time not proccing.
Terran treats can now reset fluid types.
Goo TF now sets slightly different fluid types for masculine and feminine genitals so that things like "goo and goo" don't show up so frequently. (Entering the goo submenu should autoupdate existing goo-pcs)
Fixed an issue that could cause Atha's menu to break hard.
A small batch of custom PCs (an Offbeatr reward) are in game.
Lys and Millie got new busts!
Bunches of other fixes and tweaks.