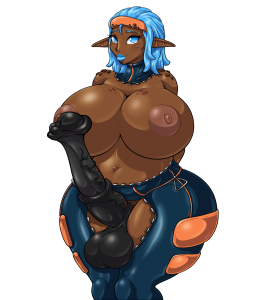 Public Patch ETA: Wednesday Evening or early Thursday.
As promised, here's the Ardia stuff. I'm going to go into the writemines after this for a bit to work on my blowjob snakes a bit!
0.7.197 Changelog:
New busts: Ardia, Agrosh (Update: a typo with Agrosh's bust is bugging out so that it's not displaying. Drats! Fixed for next patch!)
Ardia's content has been completed, including options for giving her a horse-dick (pictured at right) or a big donut butthole.
Authors for Ardia & Argosh have been correctly credited.
Getting multiple addiction-related statuses from Ardia shouldn't happen any more.
Fixed some janky bust stuff.
Zephyr can knock you up! Thanks to Gedan for coding it and Wsan for writing it! I'm told there's still some lingering bugs in this one, so don't be surprised if you fall on one!
Jacques00 is back on the clock and finished up Nonesuch's expansion for the plantation on Mhen'ga. Highlights include revisiting Quinn and participating in a "Pollen Dance"! Go get her!
Ardia's bust is done by our own Adjatha!