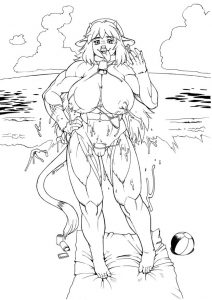 Public Build Release Date: This Friday!
0.7.01 Changelog:
Staying to help Bimbo Badger with Pexiga uplifting now has a more involved, fun little scene that Adjatha did up, rather than the old two-paragraph blurb.
Wrote up a scene for playing with the upgraded hardlight. It has a few variations slipped in there for some oddball scenarios (~2400 words total), but I want to add some more tomorrow for breast-play and maybe a crewmember randomly joining in. Not gonna 100% promise that last one though, as that could spiral out of control pretty fast.
Zheniya pregnancy fixes courtesy of Jacques00.
Cumflation notices should be less… voluminous.
Milodans can be disarmed, and the frostwyrm is now stun immune.
Other assorted fixes and typo tweaks.
In other news, we had to make the github repository private. It was being used to generate backer builds for non-backers. I wouldn't have minded so much if it was just skilled individuals putting their knowledge to work for their own benefit, but when automated builds reflecting every code commit we do are floating around in a bookmarkable archive, I guess I have to do something about it. If you've committed code to them in the past and would like to regain access to it, please feel free to post about it on the forums with pertinent details.
Art is a fan-commissioned piece of Amazon-Treated Reaha by an artist who goes by TRUMP.