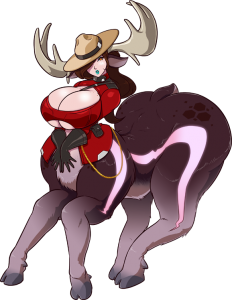 So the whole reason I started working on Kally's bar was so I'd have a place to put this Moosetaur Police Officer Jacques00 drew. (The joke was that she's a "mount-me.") Well now I started writing her. I've dumped something like 3,200 words of setup work into her, and I'm probably going to do more before I can even think about having her pin you to the wall with her enormous ass. Wsan might toss some work in on her too, since he's like, the centaur king.
No surprise futa on this one. Unless I write a one-off Throbb scene where it turns out she has a police-issue, drug-countering immune system.
Public build ETA: Jan 4thish.