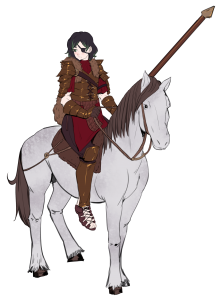 Rejoice: player pregnancies are now enabled! The first two have already been implemented, and no doubt more will come as we get more enemies.
Have a happy new year!
0.1.2 Patch Notes:
If you get your vagina fucked by the Alraune or her Effigies, you'll potentially become pregnant. If the seeds are fertilized, you'll be able to take them for later after birth.
Kasyrra herself can knock you up in her second encounter, as well. Her pregnancy path is very quick, but much more involved. Big ups to Wsan for writing it!
Milking wyverns of their venom now rewards you with a Libido-boosting item, Wyvern Venom. It's basically lust drafts, and can be thrown at people in combat. Speaking of which…
New feature: combat consumables! You can use fertilized Alraune Seeds and Wyvern Venom during combat, and you can switch weapons as well. Wyvern venom acts as a lust grenade, while Alraune Seeds summon effigies. Note that you only have one summon slot, so if you have the Summon Fire Spirit power, you can only use one at a time.
Kiyoko can also be summoned via her amulet, after some relationship growth. Wearing her amulet grants access to a special Encounter power that allows you to conjure up your faithful fox — you need to wear it to both gain and use the power.
Jen, an officer of the Marked Merks, drawn by RattlePool.