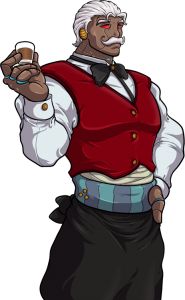 Digging through submissions sometimes feels like running on an endless treadmill. The total number of emails in my box remains roughly the same. Anyhow, new patch. New stuff. <3
0.7.43 Changelog:
You can now bet a day of being the other's pet with Syri. It's harder to win than her normal bet, though.
New Ewe now has a version of the "Wooly" perk implemented. It's pretty much entirely cosmetic, but there you have it.
New busts: Gwen the Puazi, Crystal Goo Shopkeeper (from the silly mode crystal goo village), Luna Lunason, an uncoded submission (once again, artists ahead of everyone else), zil hoverfly, zil hornet, james, vending machine, RK Lah, Sally.
Many fixes and tweaks.
James bust by Adjatha!