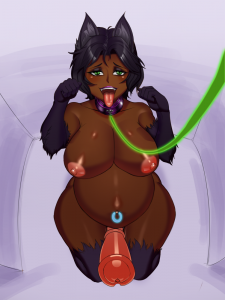 The endless charge of Alright Hugs continues! Seriously, I'm not sure how many more things in my message backlog are from him, but goddamn, dude.
0.7.39 Changelog:
New encounter on Uveto Station – the Sub-Tuner. It's a collar you can find laying out that leads to some petplay stuff.
Two new masturbation options for those with phallus-tails.
"Anti-Grav Jock" added to the game. No, it isn't a football player in anti-gravity boots.
Tweaks to the hip descript and buttdescript parser. I'm not sure how it happened, but I ran across "You have curvy quarters that make you go with a sexy, swinging gait" in the appearance screen and nearly died. Needless to say, calling hips "quarters" is gone, and "go" shouldn't show up there any longer.
Follower Anno can now sell a weapon that does cold damage after the PC hits level 5.
Two of the Offbeatr custom PC names have been added to the game.
Various fixes and sundry tweaks.
Futa variant of Erra commissioned from DCL to annoy HugsAlright >:3