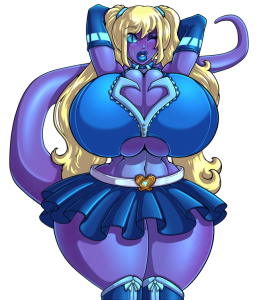 For those who have followed Trials in Tainted Space since the very start of it all, back on Offbeatr (an adult-themed Kickstarter that is no longer in operation), we got some hype from the incredible Doxy, an artist of great skill and talent that I was ecstatic to be able to work with. He's responsible for the design of Zo'dee and went on to like her so much that he spun her off into her own comic.
Now that his latest game (Sexena: Arena Tales) is about to launch on Steam, I'm happy to announce that a familiar CoC1 character may be making an appearance inside it – and that I'll be working on inserting a Sexena reference encounter into TiTS via one of the VR stations in a future patch! I've added a link to their steam store page in the sidebar, so if you'd like to give it a gander, it's right over there!
Now onto new TiTS things…
0.8.124 Changelog:
Sluttified Kiro can now be asked about Anno and the troubled relationship between the tanuki and Anno's girlfriend (detailed in Savin's Talon Rogue story. There's also a sequel if you want to dig into the fiction tab and read "Downtime".) While I enjoyed the story, I did take some issue with how Kiro was presented relatively to my impressions of her. Now, with this new scene and chain of events, I've decided to embrace those events and integrate them into creating some interesting new scenes.
After making up with Anno, sluttified Kiro has three new threesomes with the snow-white ausar, one featuring some roaming pet-play and two involving a literal triangle of genitals and mouths.
The "Androgyny" perk can now be lost.
It should no longer be possible to raise vaginal wetness above a value of 5 with Amazona, its derivatives, or Vanae encounters. The Vanae encounters have been updated to promote further wetness by increasing the girlCumMultiplier instead.
Syri's "love" discussion should now be available for more outcomes of her quest.
The Implantation Station on Dhaal should now prevent you from going into debt by buying more than you can afford.
Using the "Exgartuan" dildo now generates taint.
Fixed an exploit that allowed you to use a level up to skip the turret fight on the Stellar Tether.
New Busts: Darius and Blue (of the Love Starz)
Other small fixes (particularly typos!)
Codex stats for Dhaal were added by Gena138.