The weekend is over, and you know what that means: I put on the big boots and dropped foot first onto more bugs. We got a lot on the menu today: fixes for main story quests, crash fixes for a dozen+ items, and cleanup on a few busts. I even ran some of the old Gats busts through the waifu2x upscaler to try and squeeze a few more pixels out of them and get them to look better in the larger bust windows TiTS-JS offers.
Expect backers to get access to Myrellion later this week (and the public build to get Tarkus). I trust you'll find the ant planet sufficiently buggy – no matter which definition you use.
Changelog for Backers & Public:
Combat items should now be usable thanks to Leek!
After the Stellar Tether, Shekka's square on the map now displays a "!" to indicate there is a quest event there.
Fixed Khorgan's bust by Adjatha not displaying.
Fixed Nessa's Adjatha busts not displaying.
Added the missing male sexbot bust back.
Sexbots should now display a bust on approach… though I don't think I tested this one.
Fixed a missing roomlink in Stellar Tether near Captain Khorgan's battle.
Corrected references to Captain Khorgan that did not exist and were causing crashes.
Fixed a crash in FizzyFix.
Fixed a crash in the Magic Milker.
Fixed a crash in Pickmentation.
Fixed a crash in Reptilum.
Fixed numerous crashes in Soak.
Fixed a crash in Turtleneck.
Fixed a crash in XhelarfogPlus.
Fixed a crash that could occur when getting rid of a genital (or genitals) due to an error in how piercings were handled.
Fixed a crash in Uthra Sap.
Fixed the Hammer Shield.
The Panty collection system was converted to use fancier systems than my hard-coded kludges.
Fixed a crash when approaching the Raskvel Dockmistress.
A lot of potential crashes in the goo player menus were fixed.
Missing Anyxine emails restored.
Several fixes were made to Shizuya's Majin (her ship).
Jacques00 did some work cleaning up shopkeepers and improving name displays across the game.
Fixed IncrementFlag so that it will properly increment an undefined flag to 1 once more.
Several crashes related to movement and ship location have been correctly formatted to use the new javascript methods.
Gedan pumped a lot of work into improving our automated testing systems so that the game can rapidly create a new character to test new commits entirely on its own!
More work was done preparing ship combat to function once more. It isn't active for you guys yet, but Gedan was able to start a fight without crashing. PROGRESS!
A lot of other fixes that aren't properly documented here because there are so many being jammed in.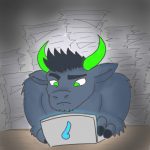 As always, if you like the game and like what we're doing, you can always support us on Patreon or SubscribeStar! And if not, well, the free builds will still be here (eventually)!