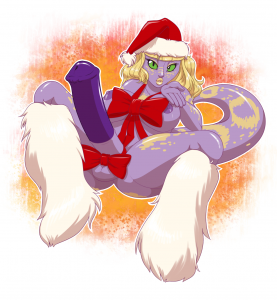 Freebie build will fall early January.
0.6.24 Changelog:
Added Dr. Anzhela to Kressia, a red myr doctor written by JimThermic.
It's now possible to run into Kaede outside of "Iced Teats" on New Texas (with her lover, Cass), by Savin.
It doesn't seem like much to read, but that's a solid chunk of content (50ish pages, if I had to guess). Next on the coding block is Zeikfried's educator for the Gildenmere Thollum, then who knows!~
Looks like ComfyCushion drew Aliss getting all dressed up for the holidays!