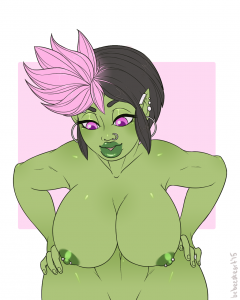 Hey guys, Fen here. I'm just knocking out some work on the final Dungeon stuff for CoC before I jump back into endless slime development. I didn't get the epilogues or that Lethice bad-end I wanted to do finished last week, so I'm bashing the former out now and giving up on the latter for now. She's still got a pretty sweet bad-end from Savin anyway.
I'll be posting links to the documents for the final dungeon on the forums for fan editing over this week, then handing them off to Gedan to code as time permits. I'll let you know when we have something close to a release date figured.
Tamani sure looks excited! Art by bebecake on HF for a fangame someone is planning to make.
Update: Wound up jamming out a lot more epilogue stuff than I intended today. About 4,000 words of stuff. Got texts for going back home, attempting to purify Mareth, or ruling in Lethice's stead. All I have left to pump out is the high corruption variant of taking Lethice's place.
We'll still have more to add – I know Savin and I want to add additional blurbs for the more notable NPCs, but this is a damned solid foundation, IMO.