Hey guys, sorry I haven't had much to share this past week. There's no way to sugarcoat me landing shoulder-first at some speed above 15 mph and busting myself to hell. I spent most of the last few days laying in bed and barely being able to sleep, let alone sit up without wincing and shaking. My arm became a supernova of pain, shooting out flares of agony at the slightest provocation. My hip caught a road rash, I got a smaller abrasion on my knee, and I peeled some skin off of my right palm. But I'm not dead!
And I'm already on the mend. Every day has been a bit better than the one before it. Yesterday I was the first one I didn't dread having to get up to use the bathroom. Today marks like the first day I feel truly mobile again – provided I slap on a sling for longer amounts of time spent on my feet. Make no mistake, I'm liable be to be recovering for a while…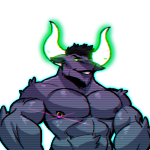 …But I'm back, baybee! I'm gonna crank on Dhaal dungeon work right after I tear into this massive communication backlog I've allowed to build up.
Small Hotfix Patch Changelog (Big Thanks: Donkey/Gedan/Leek!):
New Content: It should now be possible to wander the brothel on Dhaal and proc some exciting new scenes by William!
Gedan built up support for pop-up achievements. It should all be turned off for you guys atm so that it doesn't break anything…
Fixed Nessa's nude "belly" bust.
A potential crash in Throbb's bad end was fixed.
Applied a fix for Uthra sap's menu buttons.
Fixed checks in Rat's Raiders and Evening that were checking against incorrect inventory data.
Fixes for masturbating with panties gifted by NPCs with configurable names.
Fixes for Anno's post walkies lap sex.
Crew "blurb" display (what shows up when checking the "crew" menu) should perform better.
Nastizia shouldn't appear pregnant on first meeting.
Fixes for Breedwell softlocks.
Fixed Sylvie's mount sex having a broken button.
Fixed an issue in raskvel pregnancy where content for non-hazard rooms was displaying in hazard rooms (and vice versa!)
Misc typo fixes.