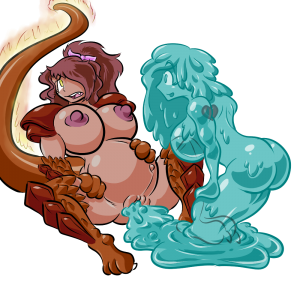 EDIT: The answer to "Will [Piece of Content That Isn't The Final Dungeon] Ever Get Finished?" is "No." Please stop asking. Contrary to popular opinion I don't like being Dreamcrusher McHitler, but you deserve to have the question answered. Working on OG CoC simply isn't viable (for several reasons) — as evidenced by how much time it's taken to get this far, or just the time between patches in general. So Dungeon 3 is the last content expansion you can expect for CoC. We know there are definitely loose ends left dangling in CoC; some of them will probably be retroactively removed (the dead-end Helspawn Incest path for example) or edited to sound more complete with the content they have. Others will probably be left the way they are.
---
So after a mighty 7+ hour long stream and some 6,600 words smashed out, Lethice is *basically* done. Fen wants to write another bad end for her at the least, and for the sake of actually doing a whole week on CoC-week I might jam out a fem-focused win scene if time permits, but… we're gonna be looking at a placeholder epilogue damn soon (with intent to replace with a full epilogue on the next and probably final CoC week). Unless one of us gets kidnapped by aliens or something today, pretty sure we'll be able to pass a finished D3 on to the code-dragon department by week's end.
Lethice's current scene catalog basically breaks down as
Breast-focused win-scene for all genders
Cock-focused win scene
Corrupt PC voluntary end
Pure PC good end (for Lethice anyway)
Petplay-themed bad end
I don't have any art of Lethice on hand, so have some classic Helia by Adjatha.