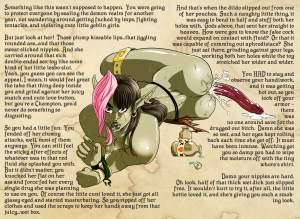 Last call! The caption contest ends Saturday night! I've seen some great entries thus far and will definitely be putting one of my own together to sling up on the site with the winners announcement!
Rules:
All entries must be Corruption of Champions or Trials in Tainted Space themed.
All entries must have at least 100 words of text, minimum.
All entries must be submitted in this thread.
Judging will be done by Fenoxo.
The contest will close this Saturday the 18th.
Maximum five submissions per author.
Prizes:
First prize will receive $100.
Fenoxo will also select additional "Honorable Mentions" which will receive $50 apiece.
All payments will be done via paypal.