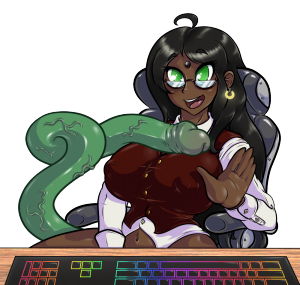 For those of you have that follow CoC, I have some good news: word from Gedan is that the final Lethice encounter should be ready for a buggy release sometime this weekend. Chances are there will be balance issues, typos, and things that outright glitch out the game. It should be a fun time, (hopefully).
And everyone says I abandoned it. FUR SHAME!
Also, between last night and today, I polished up the last scene I wanted to do for Emmy – stuff for PC's too big to properly fit inside of her. I wound up splitting it into two scenes: one for her jacking you off into her cunt with her fluffy, padded paws, and one for her fucking your ass doggie-style with your big, useless dick leaks all over the floor. And then I wound up splitting that second scene so that those with tons of cum would basically get their own special prostate milking.
Buuut, it's the weekend, so I probably won't be coding that stuff till Monday. Have a great weekend everybody!
P.S. Adjatha did some lovely busts with variations for Atha, so those will be in the next patch too (along with new Terran and SynthSheath episodes in the archive)!