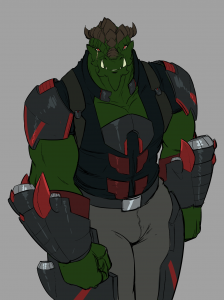 0.7.04 Changelog:
Many typo fixes.
Bad-End on New Texas involving the male milker.
Some minor extra work toward Kally's content.
New Item: Skin Clear. Does what it says on the tin.
A Haley+Ellie threesome. I vaguely recall this requiring your PC be packin' serious heat or somethin.
The Bothrioc are pretty much all in, with the expcetion of one final perk, subject to careful consideration. All told…
Bothrioc Pidemme; combat mob in the myrellion deep caves.
Bothrioc Egg Pregnancy.
Ambassador Ara Kei, in the bothrioc embassy, close to the ship hangar on Myrellion.
Addiction to said eggs, which plays an important role in Ara Kei's content.
Also this is the first run of the new build system so I better get back to minding the fire extinguisher.
Files should be up momentarily… maybe.

Image: Rocket-powered fisticuffs spessmandragon, courtesy of JayEcho!