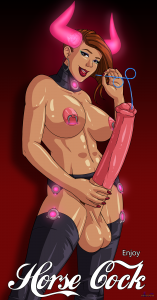 …F-U-C-K-I-N-G!
0.7.06 Changelog:
Kiro and Kally have a repeatable threesome scene. It's yuuuuuge. And it requires the PC have a penis less than four inches thick. It's 6,000+ words of content, all told.
Some fixes Jacques00 and Gedan did while I was being a sad sack.
Next up I think I'm going to do a scene where they double-team vagina-havers. If tomorrow is a good write-day, you could have it late in the evening, even.
So I put in for Renezuo's freebie holiday art drawings and got one. I think he's putting a version without the text up over on his site if that's something your interested in, though I'm not sure if he's still taking requests.