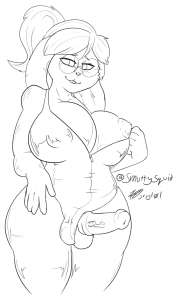 0.7.07 Changelog:
Added another Kiro x Kally scene! This time for lady-parts havers. It clocks in at 2,600 words and should be in Kiro's threesomes submenu, if you have it unlocked.
Added a little more info to why the threesomes button is disabled if it is disabled. It should be a bit more clear.
Actually edited Kally's output to increase after doing the double-milker event.
Made sure to properly increase the kiroKallyThreesomes counter with the aforementioned scene.
Expect more small builds now that our build deployment has been made easier by Gedan's space-dragon magic. Goddamn neon 80's draggos are the best.
Nayna fanart by Jroy101!  Also, did I mention this SWEET PENNY ANIMATION FANART WE GOT? Holy shit, my flash has flash fanart. If we can get flash fanart of a fanart, it'll be fanartception, and we can play that cool "BWOOONG" sound from the Inception trailers.