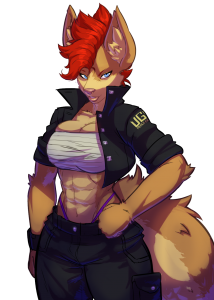 0.6.97 Changelog:
The Milodan barbarian (male) has been added to Uveto's encounter table. Note they technically belong in the yet to be released "Glacial Rift" segment, and they use a place-holder bust with incorrect coloration. No biggie~! Once our artists get around to him, we'll fix them right up.
Jacques00's corporate logos have been added as potential busts for the game. Presently they're only shown in the relevant Codex articles.
Many bug-fixes and adjustments.
Wsan did a great job writing these guys (outside of a few little tidbits I nagged him on). I hope you enjoy!
JayEcho's buff Penny has approved this content for Terran consumption.