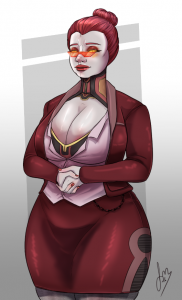 0.6.96 Changelog:
The quest to make the pexiga sapient can now be completed for characters with Bimbo Dr. Badger or arrested Dr. Badger.
It looks like Gedan did some work cleaning up some potential bugs in the save code and whatnot.
I had to get up at 7am for the internet repair guy to come by my apartment. His work didn't seem to fix anything, and the router he swapped my old one for was having the same problems as before… but worse. So after failing to stream for several hours, I gave up and went to buy a good router and modem.
It is with heavy eyelids that I go to play the new Overwatch patch (and maybe stream it on my twitch) to see if the problem was with garbage modems the whole time. I am cautiously optimistic. Nope. Still garbage. Trying the other cable hookup in my apartment now.
At right: FubMistress' rendition of Bridget the nursebot.