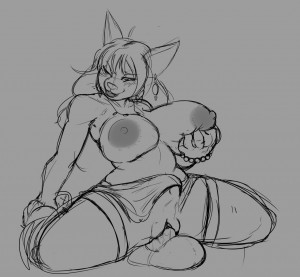 New patches for backers are all the rage! Remember, if you want to get the latest and greatest, Patreon is the place to go. A new free build will drop in early April – no foolin'.
0.6.42 Changelog:
A new character can be found in the northwest corner of Gildenmere's mushroom park – but she is time-sensitive, so wait around if she isn't there. Thanks for writing her Foxxling, and thanks for coding her, Jacques00!
A raft of bug fixes!
Emmy now has scenes for characters too big to fit inside her. Enjoy!
Atha's busts are in game!
The changelog is short, but the new content isn't! Thanks for sticking with us, folks!
Brace yourself, the Korgonne are coming… (Art by JayEcho)