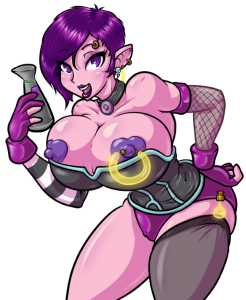 So I've slapped a few things in here and there. A lot of it is probably broken, but by the next build we'll polish out any major bugs, I'm sure.
0.6.53 Changelog:
Kaede can now show up on Uveto for an event.
Lerris now sells a new sex toy.
The new sex toy has a spam advertisement added to the possible spam messages.
A new Codex entry for the new sex toy.
The new toy allows you to store bodily fluids for later use or gifting. Currently stored fluid can only be thrown at enemies in combat for now. Gifting it to Celise… Flahne… or others will come later!
A massive rework to how XP is handled. Note that the XP bar glitching out on level up is a known issue.
New bust for Tamani.
A small expansion pack for the myr deserters by Zeikfried. You can take their toys, use them, and even give Lys a flower if you want (after talking to her about herself).
Jade now sells a feline transformative written and coded by Etis from the forums.
Huskar treats are in the game, apparently.
Accuracy is now properly calculated when rolling miss chances.
A raft of other small fixes and tweaks.
Lovely bust for the TiTS incarnation of Tamani by Adjatha!