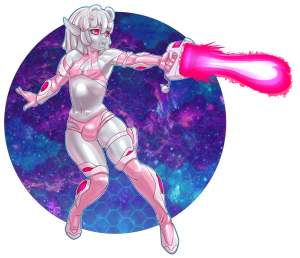 0.7.89 Changelog:
Shields have had their statistics refactored. Almost all of them confer moderate kinetic resistance and 50% damage vulnerability to electrical attacks. Many high level shields have gained increased shield points.
A new formula for item costs has been developed and deployed. Low level items got cheaper across the board, something newbies are sure to appreciate. Some high level items have gotten more expensive, and level 20 equipment will cost tens of millions of credits apiece. Underwear and accessories have not been updated.
Thermal underwear got nerfed.
Two new shields have been added to the game as rare drops from Sexbots on Tarkus and Beta Nyrea, to provide more shield options for the middle levels.
Added an inch to Fenoxo's horse-cock.
I've got to give accessories a pass, then begin to deal with how the new item systems have affected fight difficulty. Apologies for any issues this has caused!
Lovely goo-guy by Carae on the forums!