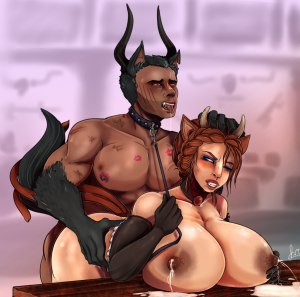 0.7.90 Changelog:
Ciaran has been added to the game, courtesy of UpcastDrake doing some volunteer coding and Night Trap writing the big lug.
A milking scene for Cameron has been snuck in, again courtesy of UpcastDrake for doing the coding (and Savin for writing, ofc).
Some small fixes to bugged content have been thrown in.
Fenoxo's cat has had the "penetrating" damageflag applied to his melee weapons. 🙁 Somebody nerf this monster!
I'm going off to write a bit of Azraquest! 1,500 words of setup for a Sydian matriarch and her trappy raskvel pets has been written. I'm going to commission some stuff with them from Nonesuch, then work on the reward lewds myself tomorrow. Ciao!
Art of Ciaran by FubMistress, I believe.