---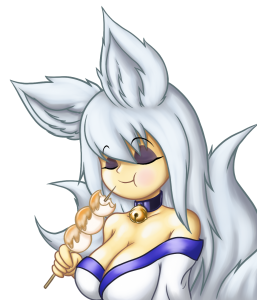 Holy mother of god Drake coded a LOT this weekend. How much? Well, Kiyoko's base content is now entirely implemented… all 164,000+ words of it. That's more than three novels' worth according to NaNoWriMo. I'm pretty sure the total content of the game just doubled, so uh, enjoy a whole hell of a lot of foxy momma.
Remember you can get backer access HERE and access the builds right here on the blog!
0.0.31 Patch Notes:
Kiyoko. SO MUCH KIYOKO. She can be fucked, knocked up, visited, the whole nine yards.
You can meet your eldest kit, Kinu, as well. She'll have a lot more content later on, but is fairly limited right now.
Edit: Hotfix is now live with several bug fixes. Thanks to everyone who's been reporting them!
I can't brag on Drake and The Observer enough for this — Drake for making an incredible new parser that's streamlined the coding process by miles, and Tobs for actually using it to its fullest effect.
Art of your eldest fox-spawn by Alder. He's still alive we promise.
---
---
---
---
---
---
---
---
---
A Question:

When fucking big-dicked minotaur-likes, I like my holes to:

Get stretched and recover quickly. (44%, 69 Votes)
Get stretched and recover slowly. (25%, 39 Votes)
Get stretched and eventually ruined. (22%, 35 Votes)
Get stretched so badly they can't fully recover. (9%, 15 Votes)

Total Voters: 158

Loading ...

Tweets

Found A Bug?

Backer Poll

Sorry, there are no polls available at the moment.