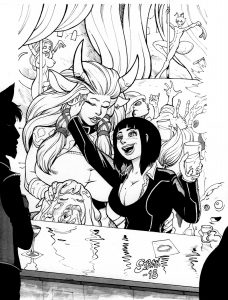 They come out every month, but does anyone really notice? They say they do, but do they really?
(You guys do. <3)
0.7.164:
New Busts: Yoma, Kattom Osgood, Storm Lancer
Paige x Kiro now requires 70 trust with Kiro or higher.
Whimsalot coded GothPastel's Yoma into the game.
New This Month:
New Mechanic: "Taint," a stat which functions in some ways like CoC's corruption. It has its own Codex article and everything. More info here.
New NPCs: Stella the ausar beach babe (Available on Tavros Station), Jesse (Available on Canadia Station)
New Crew Recruit: Shekka! She comes complete with options for slapping a dong on her if that's your jam, as well as some new scenes here or there. She can even jump you while you're trying to get some lifting done at the gym.
New Event: Kiro x Paige threesome! This one is a monstrous doozy of flowcharts written by B! Enjoy.
New Event: Silly space bear.
New Busts: Jesse, Verusha (alternate), Myrna the X-Mas Korg, Jejune Vending Machines, Kiro & Kally (alternates).
New Scenes: Feeding Lund PB Cookies, Bad-End for feeding Lund too many PB Cookies, Ula's appearance screen, Ovispositor PC + Crew Shekka, Futa Shekka breeding the PC, Follower Anno and Shekka having a nerd-off.
New Items: Chill Pill, Shekka's Jumpsuit
New Item: Mindwash Visor! Sold from Doctor Badger (or dropped from one of her robots during PexigaQuest). Plays one of 9 random scenes, penned by Adjatha or 25 classic scenes harvested from CoC! The scenes are also viewable from a broken VR booth in Luca's parlor on Canadia Station.
New Pregnancy Type: Raskvel/Shekka
Shekka's aphrodisiac spit-addiction has been reworked.
Art: Steele at a bar in Myrellion, having a good time by Servik.