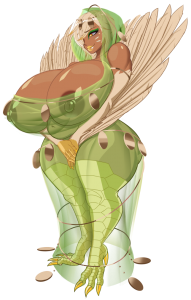 New patch of CoC2 is live! Sorry about the dead space, but there was a lot of stuff that had to get put together for this next bit of content — specifically, the entire system for overworld travel and random encounters, plus the first sexable mobs and all that entails.
0.0.10 Patch Notes
The Foothills area is now explorable. It's east of Hawkethorne; just press the [Exit] button where the path turns. Be sure to recruit Cait again before you go out!
There's a new map system in play in this build, meant to cover long-distance travel rather than room-to-room. Use the X on the map to figure out which way you're going if you can't see the lines between locations clearly. Not everything the map system will have is set up now, such as unlocking new locations or finding loot/events while traveling, but it should give you an idea of what to expect from each region.
You can now press "M" to bring up/close a much larger version of the map. Useful while exploring!
A unique first-time encounter with a later-game boss, the Harpy Matron, introduces the game's first sexable mobs: the harpy thieves!
Harpy thieves can be encountered randomly, and have a suite of win and loss scenes as well as coin drops. Their stats have been slightly nerfed for the early release (due to the current lack of extra companions and levels) and their Lust-based attacks have not yet been implemented so. Soon(tm).
Remember that you can get buffs and healing in town!
More content coming as we can roll it out!
Art of the Harpy Matron in all her Jacquesian glory, by DCL.