This isn't a huge one, largely thanks to my efforts to clear the submission backlog and real life situations that had me riding the edge of a panic attack for a few days this week (cutting caffeine, back to back days of dental work, and getting a mortgage is tough). The good news is that I cleared through more than four months of piled up submissions and have climbed out of the 2018 backlog and into the 2019 submission pile. Last night I found a great new scene for the Male Punk SecOp, which was quite invigorating after having to reject more than 75% of submissions. Also of note: Mirrin has a huge expansion pack on the way. I've green-lit it pending the acceptance of a small mountain of edits.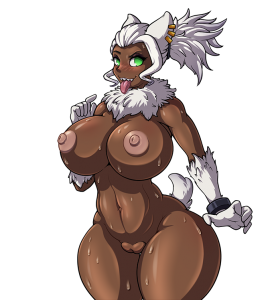 Next weekend, you can find myself and most of the staff of TiTS and CoC2 at Furry Weekend Atlanta. If you're in the area and wanna drop by to say hi, we will be putting on a little panel from 10:30 to 11:30 Friday night where we run through the history of how we got here and delve deep into what it's like to work on these smutty behemoths, followed by what usually winds up being a lengthy Q/A and a "Name That Pokemon"-style game with merch for prizes.
0.7.279 Changelog:
A new encounter with a Slyveren toying with one of Rat's Raiders can be found in the "prefab" tiles of the foundry. The event can only occur once every 4 days and has a few options for how you'd like to interact with it. Written by William, coded by Lighterfluid. Personally, it tickles the old Fenoxo fetish buttons pretty hard!
Lots of fixes and tweaks for Roxy.
Nova should now slurp you clean when you get covered with juices. This one is relatively untested, so let me know if you hit a bug with it (and maybe attach a save file to your bug report so we can jump on fixing it post-haste).
New Bust: Corona Lord Flamer (AKA: Firepup)
May is shaping up to be a great month. I'm going to get 100% caught up on the backlog if it kills me. Expect expansions for existing submitted NPCs, new Transformations, and hopefully me getting to delve into some of my own backlogged waifu quests.
What Else Is New This Month? (For Non-Backers)
New character: Roxy the Laquine (Uveto)
New enemy: Corona Lord Flamer (Zheng Shi)
New enemy: Lureling (Uveto)
More Dane content (Zheng Shi)
New Threesome: Amber and Celise
New Scene: Amber mounting bipeds with the help of taur toys
Not in game, but the blog has a new fiction entry by B featuring some imprisoned slyverens that is quite hot. Very hot.