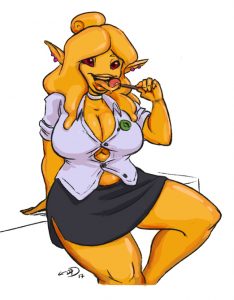 0.7.34 Changelog:
New Busts: Goo Knight win variants
New Item: Pickmentation (allows selecting skin color). It's quite expensive, as one would expect.
"Vava Groom" (new encounter on Uveto) implementation.
New shower option.
More Foxfire colors.
Some tweaks for the "exhibition gains/losses over time" subsystem.
Adjustments to level up notices.
"More Vending Machines."
New Since Last Public Release:
New Quest: Plantation Quest on Mhen'ga. (Be relatively high level, do all the talk topics, then wait a day or two for an email.) Includes something like 5 new fights, two new items, and a potential pile of money.
New Busts: Kane, Quinn, Mabbs, Estraffe, Sylvie, Nessa, Dr. Lessau, Carver, Psychic Egg, Kat, Kaede, and Pippa.
New Items: Laquine Ears, Sweat Treat, Muffstick, FizzyFix, Strawberry Shortcake, Holstaria, Lupinoland, and Lemon Loftcake
New character on Canadia Station: Mabbs. She's a drug-dealing rodenian. She's also immune to Cap'n Steele's wiles.
Rodenian Codex entry added.
New Beth's expansion for working there.
Two new NPCs on Uveto.
Bubble Buddy Bubbles can now be drank for certain PCs.
Various fixes and tweaks.
Jacques00 did most of the work to be honest…
Next project: Reviewing & Possibly coding Liamme. Could be in tonight (for backers) if all goes well.
Flahne fanart by DastardlyDevil.