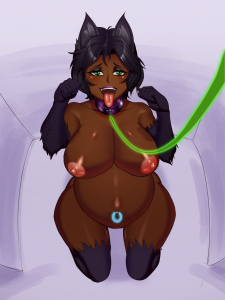 Blame HugsAlright for this one. Savin has inspired the sort of rabid fever for dog-people that not even a furry can approach. Speaking of fevers, I'm going to be sorting through these submissions when able, but I'm not sure if I'll have another that I can bang out this quick and easy before we go to Furry Weekend Atlanta (details in link). There is quite a backlog to sort through, and whenever I get back into writing, I intend to slide into knocking out a Custom Follower someone ordered from back during the Offbeatr.
0.7.35 Changelog:
Liamme the ausar trap has been added to the Tavros Residential Deck between noon and 4 AM.
New bust: Liamme
Pickmentation can now give you facial freckles (do not show through fur).
Pregnant Erra drawn by DCLZexon.