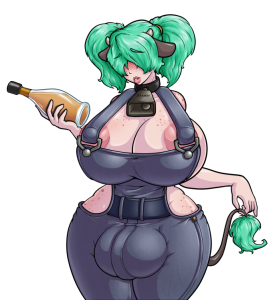 I'd love to tell you that I absolutely destroyed that Azra scene I was working on, but I fell into a pretty funky headspace last night that has persisted through today. Quite simply: I can't mentally summon the degree of sweetness and care I would need to approximate Azra's voice in the scenes right now. Instead I spent the afternoon chunking in a simple expansion for Brandy, a new scene from William, and cleaned up some bugs.
(Edit: Like the fucking CLOD that I am… I forgot to mention that Dreghan is in the game now too. Patch notes should be correct now.)
0.8.107 Changelog:
Brandy can now be given dicksprout! You'll need to be at the "Lovers" stage with her to do it, which means having received her letter and spoken to her about it (with the appropriate reaction chosen.) Afterward she will have two new sex scenes (one of which replaces the current exhibitionism scene) and a number of edits to other scenes to make mention of her new endowment. Written by HugsAlright, coded by me.
The gabilani chemist got ANOTHER scene from William. This time, you can slap some grav-cuffs on her and take her to pound town – with an optional walk through the streets while you do it. That SHOULD complete her full load of scenes. The WIP/debug message when encountering her has been removed.
Dreghan the big bad Korgonne can now be found, written by Freed85 and coded by Whimsalot.
Fixed an incorrect dick error in a Tuuva scene.

The gabilani cyborg no longer pretends that she won if you defeated her and then walked away.

Added trip chance and stagger chance to the combat item stat list in the Codex.
Cleaned up a bunch of typos.
The Zaika Hydra no longer has 1 leg in the code.
It should now be impossible to get both the "Black Latex" and "Wooly" perks at the same time.
The Gabilani Chemist's "Yellow Sticky!" status and two-part epoxy attack can now properly be wiped away.
One of the Gabilani Cyborg's busts should no longer be improperly sized.
Various Crash Landing fixes courtesy of Gena and bug reporting players like you!