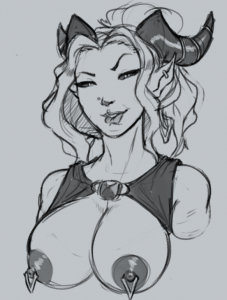 My gut instinct is to say that this is a smaller update, but it adds something like 20 pages of new content on top of some stuff Jacques00 and UpcastDrake merged in. Progress is progress, right?
…I remember when 20 pages was a huge update.
0.7.80 Changelog:
Paige's tribadism scenes have been added.
Anno's feather duster stuff has been added by UpcastDrake.
Jacques00 added an improvement to our error reporting function.
Various tweaks and fixes.
Sera fanart sketched by JayEcho on stream the other day.