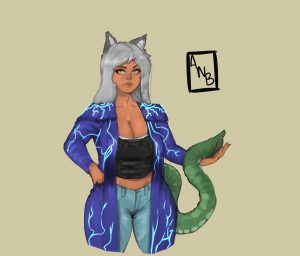 Bet you all thought it'd be a while till a new patch. Well, surprise! A recap of my trip to FWA is in the post below!
0.7.152 Changelog:
Shekka's milk-drinking scene should now work for follower Shekka.
A new event is possible where Anno and Shekka argue about the best way to make a Dildo. It's repeatable too. Yay!
A new parser has been added: [pc.womb] (or [pc.uterus]). It will usually simply randomly output womb or uterus, but pregnant characters and characters in heat can get a few descriptions to pop up (assuming writers decide to use it).
Jesse has been added to the game, courtesy of Whimsalot's coding efforts. I haven't had a chance to bug-test it yet, so let us know if there's any problems! (Check Canadia Station!)
Added some more mentions of Shekka's reactions to PC's with aphoridisiac spit.
Many issues were resolved, including one that prevented Shekka's futa status from properly being recorded.
I'm gonna play some Overwatch now. All work and no play make Fen a grumpy boy.
Art of Shade by MilkTofu. We might see this appear as a variant bust later!