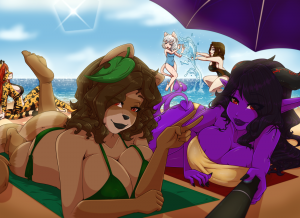 0.6.72 Changelog:
New Dryad scene, courtesy of Wsan!
Follower Anno will now sometimes show up in bars! Comes with a few random scenes and one particularly fun one.
New Male Naleen scene by Mysterious Person.
New Lieve talk scene by Neoptolemus.
New Saendra scene by Archangel.
New busts: Zil call-girl
Misc bug and typo fixes.
There's probably some other things I'm missing in there for sure. Big shout out to my boy Savin for coding in three new scenes on his own in spite of ongoing challenges with his health. Sidenote, if anyone likes Snao's art, I put together a little flash of one of his sequences during D&D.
Art source: I managed to snag a YCH from CheshireCatSmile37 and slap Kiro in there! The adorable purple demoness beside her is my lovely fiancee, Sinarra.