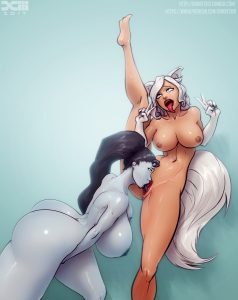 0.7.63 Changelog:
New story from HugsAlright: Stolen Goods (posted one post below & linked in the fiction section!) It can drop on Tarkus or Myrellion.
New story from QuestyRobo: Tentacle Trouble for Turned-on Tanukis. It can drop on Myrellion.
New threesome encounter with crew Anno & Gianna in the barn on New Texas. For male & hermaphrodite PCs. It was the lovely little confluence of being something I wanted to write and a belated birthday gift for Savin.
Some fixes for bimbo tech specialists not properly using the calculated "bimbo intelligence" on all skills.
Goo Armor exposure settings have been added.
Dumbfuck & Sneezing tits should now synergize.
Various other small tweaks and fixes.
Art of Gianna and Anno grabbed from one of BarretXIII's stream commissions last night. Such great timing!