Some of you may remember the lovely lass over at eSuccubus.com who made some neat audio hypnosis and general audio-porn files for Corruption of Champions, and it turns out she's still doing it. The ones I tried were pretty rad, and while I'm not deep into that scene, it might make for some good auditory fun even if you're not a trancing type. This isn't a paid plug or anything – just one of those rad times where two people make things and are both fans of the other's work.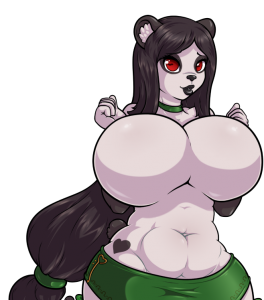 0.7.24 Changelog:
New item graciously written and submitted by a generous benefactor as a pull request on the public repository – Tentacool. As the name would imply, it makes you grow tentacles. Lots of tentacles.
Matching the theme of the new item, we have a new bust for Jade, complete with special versions for once she's acquired a pair of nipples. The work-safe version is posted at right. Boobs are work safe without nipples, right? Adj does good work.
Many typo fixes by Jacques00, of course.
In fen-news, I wrote another 3,000+ words for Sylvie, this time for a PC who is under a "rut" type effect. Nevermind that those aren't game yet, I'll have to make them in game. I also reviewed scenes Gardeford and Nonesuch wrote for her. They're both fantastic, and I'm sure you guys will like them. Coding is likely to start tomorrow unless I get in a writey mood.