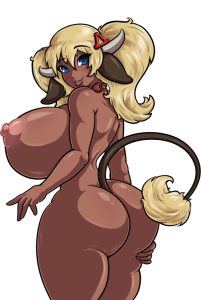 I know Riya is a pretty divisive NPC, but I don't think anyone can argue with the quality of her writing. In any event, we've got that and a few other things to give you guys before the weekend. I'll see you all again Sunday/Monday!
0.7.23 Changelog:
Riya got two new scenes (three really – there's a sub-scene for her taking virginity now) written by Franks. She chooses which scene she uses at random, and one of them can even reward you with a Terran Treat once a week, if you're a filthy mutt.
Walking around with parts of you exposed can now slowly raise exhibition scores. Fully nude PCs can get up to 50 exhibitionism passively this way. Obviously having less parts exposed gives smaller returns.
Added a "canDeepthroat" function for PCs to allow for other things to allow the ability (besides being a bimbo).
Fixed a bug for some Treated PCs that could result in negative maximum intelligence.
New bust: Victoria and Betsy, courtesy of Adjatha.
Added a new dream for PC's with male equipment and Reaha sleeping in their bed by Shadefalcon.