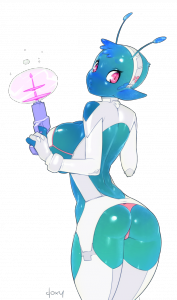 It's finally here! Sorry for the hold-up. I'm getting word that the combat overhaul is coming along well too, so maybe we can see a party combat dungeon in time for January (no promises). Check out the new hotness:
0.6.20 Changelog:
Resolves a crash in a Zephyr scene, issues with the gooey balls submenus, and various other annoying details.
0.6.19 Changelog:
Placeholder scene for meeting Zo'dee a second time has been replaced with a proper encounter. Moderate lewdness possible.
After encountering GaloMax for the first time, Gene and Sera will each sell one dose.
The third level of GaloMax transformation is more or less complete, with a bevy of options for vaginas, testes, and penises.
Please note that GaloMax is still unfinished content – the fourth (full-body gooey-ness) and fifth doses (legs become a gooey mound – fullgoo PC) are not yet in the game.
Zo'dee has a bust from one of Doxy's original design picture (Doxy approved!)
Codex Entries have been broken up to make the "Races" section less overwhelming.
Arbetz travel agency has been added to Tarkus, courtesy of Nonesuch and Jacques00.
MinoCharge has been added to Gene's shop courtesy of Couch and Jacques00.
A bigass pile of changes, fixes, and tweaks that probably also broke some new things. Keep the bug reports coming!
Some work to allow you to be naked/exhibitionist when wearing clothes that don't actually cover the funbits.
The weekend is hitting, so I'll be MOSTLY scarce till monday, but I'm hoping I can spend some time cleaning up any major bugs tonight in order to put a less-buggy public build up. If it doesn't hit tonight, expect it Saturday night.
Odds are pretty good for Savin and I digging into CoC some next week, though I might not put a whole week into it. CIAO!
Original Zo'dee bust by Doxy!
Other New Stuff Since Last Public Build:
A bunch of tear-down and rebuild of some description functions
Sex with Quinton
Red Myr Venom & Addiction
Full functionality for Orryx's shop and black market.
Honey wine item.
Reorganized the buttons.
Silly-mode Ganrael (crystal goos) in the deep caves of Myrellion.
Lady-types can whore themselves out at Beth's Broads.
The fungal queen can now be encountered in the deep caves. You can score a nice credit pouch and fight a crazy robot!
Aliss's shop got tooltips and some sexiness bonuses.
Tons more fixes and under-the-hood-adjustments.