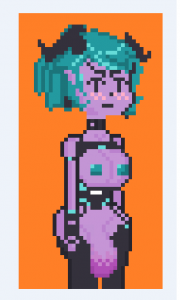 Yeah so I kept poking at this stuff instead of doing other stuff I should do. It's not 110% tested, so there's a 20% chance your characters will light on fire and die. You've been waaaarrrrrned! (There will be another patch tomorrow to clean up bugs and MAYBE do level 10 if I feel particularly froggy.)
($10 Patreon backers can grab their artpacks now as well – they're posted over on Patreon!)
0.7.58 Changelog:
Level 9 is now achievable!
Volley and Weapon Hack are gone, replaced by Charge Weapon (boosted melee damage) and Charge Shield (blind chance when damaged + damage to melee attackers).
Many Tech Specialist abilities have received slight tweaks and adjustments for bimbos with the "Fuck Sense" perk.
New Item: Frontrack Cream
New Since Last Public Release:
New NPCs: Mirrin, Chaurmine (each with quite a solid chunk of content)
New Items: Red Pandaneen, 5 new weapons
New masturbation options.
New dreams.
Adjustments and tweaks to Del's move to Canadia Station. (Also Synthsheath stuff!)
Contagious diseases added! (Along with options to prevent/cure them.)
New busts: Attica, Teron, Bothrioc Pidemme, Uveto taxi guy (not yet implemented), Jerynn, Beer cowgirl, Whiskey cowgirl, the Bronco, Cythia, Riya, Mrs Reasner, and Walt.
Not a bad month, if I say so myself!
Pixel Sera by Crossman (lemme know if you want a link updated in there!)