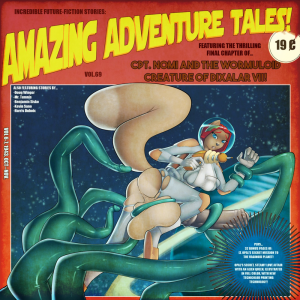 0.6.85 Changelog:
New Story, commissioned from Kotep. Presently it automatically unlocks in the Codex, but once we add an in-game fiction store, that'll change. It's a big one (10,000 words-ish).
Many fixes and tweaks.
Edan is now okay with ladies with penises.
[Edit] Looks like Gedan slipped the nursery in there too! Might be buggy.
I wanted to get the reunion of Kiro and her sister (despite not having repeatable content done yet) in for the pubbie patch, but I wasn't sure I'd be able to cram it all in tonight. So here we are! Better to release now than wait 3 hours for a maybe.
New Stuff Since Last Public Patch:
Siegewulf + Drone Tweaks
Busky & His Shop (With New Items)
Two new items for Gene's shop.
Uvetan Frost Wyrms
Reaha can now be cured of her patch addiction (plenty o' content here).
New busts: Your dad's lawyer, Xotchi, Siegewulfs, Fenris Drones, Natalie, Tamwolf, One-Off Gryvain from an Anno scene
Ilaria and her shop were added to Tavros's residential deck.
Improved price display for smugglers.
Edan added to "The Mess" on Tarkus.
Kirila and her shop have been added to Uveto.
An expension to allow for acquiring Inessa's key.
Not a bad month if I do say so myself! (Fake fanart magazine commissioned by EraDragon and drawn by Bakuhaku.)