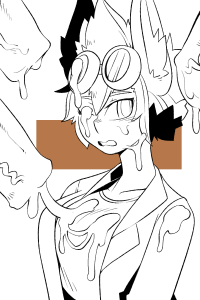 While I did get through sorting all the texts I wanted to sort today, I did not get into coding everything, and with me going on a trip, coding time will be diminished slightly. That isn't to say that I don't plan to slip it out in the next few days – just that I don't have an exact time-table for its release. The ol' ball and chain is gonna be keeping me busy with snuggles. (Awww yiss!)
Since I didn't have time to code all the slamazon stuff, I finally set up Nayna's probes. At present there are five scattered out in the snow. You can give them to her or sell them to vendors for a pretty penny. Their raw value is set to 5,000 credits at present.
Kaede bukkake courtesy of my Patreon pledge to Gats!