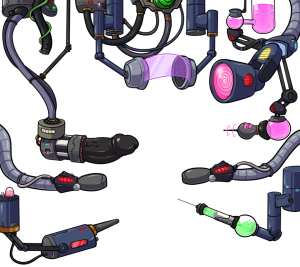 It's heeeeeere!
0.7.02 Changelog:
New Bust: Dollmaker.
Another variant added to the upgraded hardlight masturbation scene for those with big boobs (H-cup+).
A new scene between a bull and a cow-girl in the Ten Ton Gym after you lift weights. It has a 20% chance of going off with a one day cooldown.
Dollmaker by Adjatha. I also got a lovely, very very NSFW commission from Milkcrown of New Texas's Cameron.
New Since Last Public Patch:
New Quest: Pexiga uplift. It's now possible to get help raising the Pexiga up to sapience. (Over 100 pages of new content!)
Hardlight strap-ons can be upgraded! For now, the Korgonne female drops it.
Four new scenes for the aforementioned strap-on.
New busts: Briget, Dollmaker, Yammi, Nym-Foe, Corporate Logos
New Jade scene!
New scene at Dr. Lessau's.
New scenes: Working the gloryhole in the Kui Country Bar and Lodge.
New scenes for Kally (for Brute PCs)
New Items: Taurico Venidae, Bimboleum Ray, Amber Seed, Virection, and more!
New NPC: Male Milodan
More fixed bugs than an entire city full of infertile red myr.