I will probably drop the public patch tomorrow, assuming no game-breaking bugs, so be sure to pound the hell out of the game tonight and line up any bugs for me tag tomorrow, 'kay?
Also coming soon: writing time on Azra mom-dom stuff (as part of a reward for the RPG4TG fundraiser), and writing time for Feruze's contribution to Dhaal's main questline.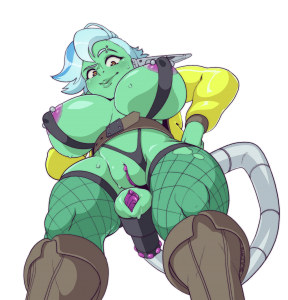 0.8.105 Changelog:
The gabilani chemist's oral path now has options for vagina-toting PCs and rimming. (William wrote them, Fen coded.)
If it is possible to sleep with Anno & Shekka, you can now choose "Both" from Anno's sleep with option. (Previously it was only available in Shekka's menu.) Additionally, if you are sleeping with Shekka and Anno and tell Anno not to sleep with you, it should preserve Shekka as your bed partner.
There is now an Anno & Shekka threesome event that can proc in the mornings. Calling it a threesome really does not do it enough credit. The dom path scene is basically a whole pile of scenes, and there's a lovely option for getting pounded by a penis-equipped Shekka as well. (Written by William, coded by Fen.)
The lovely picture I got from Sulcate (at right) is finally in game in the art pack as part of the L.H.D. loss scene.
Fixed an issue where older saves could have Loreleis with incorrectly set sexual preferences that displayed as errors when using the "Sense" action.
A few other small fixes.