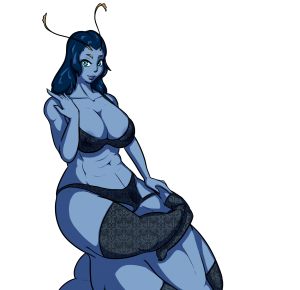 Not a lot in this one, but I figured why not push out a release?
0.6.48 Changelog:
Added a new scene for Nayna.
Added 8 new custom PCs off the list (an Offbeatr reward – don't sweat it if you don't know it. Still 53 pages of Offbeatr reward things to do)
New texts for the Uvetan space elevator.
Fix for 'Nuki Nuts vs. Suma Cream on tiny kui-tans.
Suma Cream bad end now triggered by weight/strength requirements in addition to size.
Added and implemented Shou's Xanthe busts.
Adjustments to exhibitionism decay by ignoring exposing underwear from check.
Added metallic black and iridescent to Shear Beauty hair/fur color menus.
Enjoy!
(New Xanthe is lookin' adorable. Good work, Shou!)