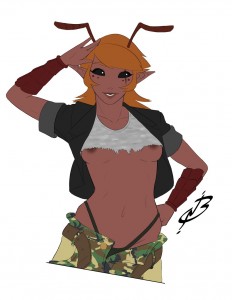 I just churned out a 2,000 word scene for plowing Nayna. I'll try and get it into code along with a proper setup for collecting drones later tonight, then probably look at knocking out a few more custom characters.
Word from Adjatha is that Lerris is getting a bust, and a new toy called "Bubble Buddy" is on the way. Also, Bragga got some art. Shou got some work done on Xanthe, finally finishing up her busts and starting in on Zaalt. Lookat these people, actually doing busts faster than we can write characters!
For now, I'm off to exercise. Stay radical, bras!
Fancy-pants Briha fanart by NuBattori!