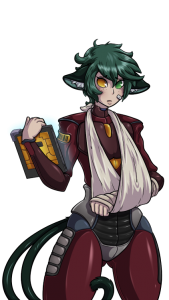 0.7.72 Changelog:
Some bugfixes Jacques00 whipped up have been pushed out.
0.7.71 Changelog:
Two new busts were added, both for Savin's latest quest.
Savin's latest sidequest was added to the game. It's a short and simple mission on Mhen'ga to retrieve the hard drive from a downed Satellite. Comes with one new combat encounter, one new weapon, and a new sex scene.
More work to come tomorrow! (Kaithrit business-guy by Adjatha)