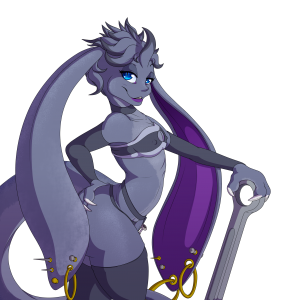 Time to wipe the politicking off the front page with some lovely new content for you all.
0.7.70 Changelog:
A new shop has been added to the game, written by SoAndSo and coded by UpcastDrake. At present, it offers no new items but some… mind-bending content.
Riya has a small but brutally difficult quest available if you want to find out why the brass puts up with her racist shit. Written by Franks, of course.
That's it from me for the weekend. I think I'm gonna step away from the smutcave till Monday, so don't expect to hear much from me till then. Ciao!
At right: some lovely fanart by JayfireGrowlithe. Those rasks'll getcha!