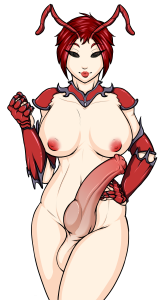 This one's pretty decent sized considering that it comes hot on the heels of that delightful Halloween update! A big shout out to Jacques00 for chipping in on the coding front for this stuff, Nonesuch for dropping some cool additions to existing content, and Alkahest for getting me a bit of late content for the centaur costume. Oh, and JimThermic for commissioning some alternate busts!
0.6.14 Changelog:
You can now sell your body for money at Beth's broads if you've got the physical equipment to be a "broad" and some pretty clothing. Written by Nonesuch, coded by Jacques00.
You can now meet up with a zil call-girl in the upstairs of Anon's Bar after Saendra quest. Coded by Jacques00, but this one is pretty untested. Might be broken or crashy.
Added a bunch of new Shou busts to the game: Ceria, Fungal Myr, Renvra, Lieve. The Renvra one is probably my new personal favorite of hers.
Added some CeshireCatSmile37 busts for Embry that JimThermic commissioned.
Added a new, submissive scene to the Halloween content for those who choose the male taursuit.
Added a new scene for the GravCuffs on New Texas. Some cow-girls will come play with those who have the proper equipment.
And Savin added a new Lieve talk scene and Codex. Maybe we can make a coder out of him yet!
The usual raft of fixes.
That's it for tonight! Enjoy!