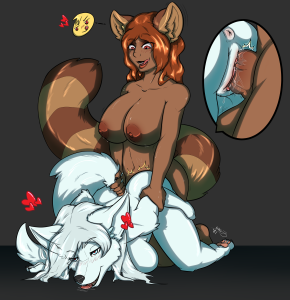 This one has a lot of smaller, semi-hidden content for you to take a poke at. Hope you guys enjoy!
0.7.146 Changelog:
Added a new email from Kiro and Kally after you hook them up with a lovely little thank-you holo attached.
Added the ability to watch holo-scenes from anywhere (the "Smut" option in the masturbate menu), if you have one that supports it. I promised this to DCL for ages and finally delivered.
Added a scene QuestyRobo wrote for Sylvie if she's futa. It involves her, Kiro, and Kally. Needless to say, the latter two need to be acquainted to see it properly. It was quite enjoyable to code.
Once you've unlocked the Synthsheath Codex entry, Shekka will now sell them for quite a pretty penny. You can also find them in the wastes, if you want to be frugal. After getting four of them, no more can be found for now.
Added the repeatable variant for domming Lund in. Enjoy!
Some adjustments to dropping items were made to account for undroppables.
An emergency clothing drop for characters who can't go out exposed was added.
Some new options in the goo menu.
Assorted fixes and tweaks.
De-furred Kiro taking furry Anno out for a spin by our own lovely Shou!