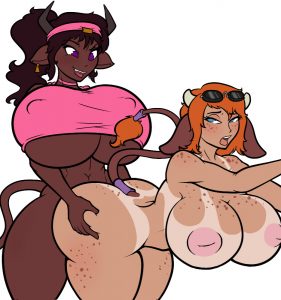 I've been in a fairly write-happy mood, considering I chunked out a solid 8,000 words of Shekka stuff over the past two days. I've lobbed it all into the game in a rash of coding, so enjoy! Please be aware it is only edited in the lightest sense of the word. I hope to clean it up a bit tomorrow afternoon, time permitting.
0.7.154 Changelog:
Hermaphroditic Shekka can now be caught playing with a toy, resulting in three possible sub-scenes!
Crew Shekka may follow you into the gym for some "squats". Hit the weights if you'd like to see this one. (Requires a phallus.)
Myr Venom now automatically gives your tongue the aphrodisiac-laced flag.
Motherhusks should no longer crash on use. Whoops!
Watch out for Space Bears in silly mode.
The odds of Throbb increasing penis size are now higher.
Many typo fixes.
Art is Adjatha's rendition of the New Texan gym sluts. Thanks to whoever requested he draw that during his doodle stream!